Hydraulics and PTO
Klute has been in the PTO/Hydraulic market for decades, and our knowledgeable staff will prove you have found the best supplier in the industry. If your mobile hydraulic system is not performing at peak it costs you money.
It is vital, when reconfiguring a truck frame, that all aspects of the trucks performance be considered, including ride, turning radius, load balance, drive train, electrical configuration and even fuel systems. When you think about all the areas that are impacted by a "simple" addition of a few inches (or many inches) to the overall length of a truck, you will soon realize that this is a job that is best done by professionals. You can imagine the kinds of problems you could encounter if the job is done poorly.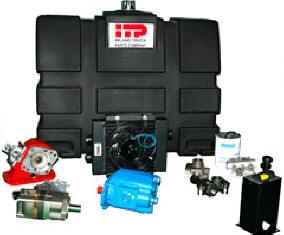 We offer PTO assemblies for these and more:
Control Valves
Hydraulic Pumps& Motors
Hydraulic Cylinders
Wet line Kits
Air Shift Kits
Tanks, Filters & Hoses
Hydraulic Pump & PTO Parts
We also repair cylinders:
Hydraulic
Anhydrous
Propane
We also PTO Hydraulics for:
Live Floors
Refuse Trucks
Product Pumps
Lift Trucks
Crane Lifts
Petroleum/Chemicals
---
Wet Line Kits
Wet Line Kits or Wet Kits vary widely, based upon their specific application. A typical wet kit will include, but not be limited to a reservoir, a set of filters and hydraulic hoses (complete with fittings) control valves, and even pumps and PTO's. Once installed, the wet kit can be configured to control hoists, moving (live) floors, lowboy operations and more. They can be used on trucks or trailers. Wet line kits come in either two or three line catagories.
Our principle supplier of wet kits is Muncie Power via Inland Truck Parts. however we have a wide range of suppliers we use that can augment these kits to fit any application you might imagine (at least we haven't been stumped yet!).